~ Inspections ~
Call us today for a thorough evaluation of fireplaces, wood stoves or furnace chimneys.
Our certified inspector will be looking at these elements when he visits your home:
• Hearth
• Firebox
• Smoke chamber
• Lintel
• Damper housing
• Damper plate
• Damper handle/opening mechanism
• Clean out
• Clearance from combustibles
• Doors and/or screen
• Connector Pipe (WS)
• Flue
• Draft/Flow
• Mortar joints
• Roof/Flashing
• Crown
• Cap
• Overall functionality of the appliance

   "Thanks so much for doing such an extremely tough job in such hot weather. It is much appreciated." - V. D., Seaford
        Keeping the Shore "Warm & Secure" Since 1978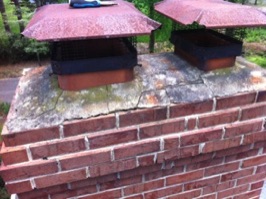 Rusted caps and a deteriorating crown are among the issues that jump out from this inspection.